Expertise is key
Funding agencies have an important responsibility in ensuring that research funding ends up in the best places. It is therefore critical that the evaluators of research proposals are experts in their respective fields. With the increasing interdisciplinary nature of research, this is becoming ever harder to do with traditional, monodisciplinary labels.
The Semantic Search approach of Global Campus tackles these issues by looking at the meaning behind the keywords, and thus also capturing transdisciplinary works or emerging fields. By adding filters such as the minimum number of publications and author position, funding agencies can narrow down long lists of publishing experts to a shortlist of key individuals in no time.
Some of our proposals are submitted in Dutch. With Global Campus, we found a researcher with a Dutch background and the right expertise who emigrated to Australia over 20 years ago!

Program Officer - Regieorgaan SIA
Conflicts of Interest
Avoiding potential conflicts of interest is an important consideration for the selection of independent referees. GlobalCampus includes specific options to look at the publication history of a potential peer reviewers. In addition, batch comparison between a long list of candidates and a list of researchers involved in the research proposal is also possible.
Related usecases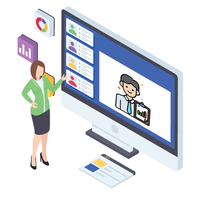 Find academic experts